Events and News

Upcoming events
Sports Week - 25th - 29th June
Summer Fair - This year's Summer Fair will be held on Friday 6th July at 3.00 pm in the school halls.
The school photographer will be in school on Monday 18th September.
The children will have individual and family photos taken. If you would like your children to have a photograph with a younger brother or sister who is not in our nursery or main school (i.e. a baby or a toddler) please come to the main entrance at 8.30 am on the 18th September.
Tour de Yorkshire-
On Tuesday 27th June the Year 6 children who took part in the Schools Yorkshire Tour, attended a special lunch at the tour's final destination in Leeds. A video of the day can be found by clicking on link below;
https://quik.gopro.com/v/4EF37YTVZC/
We are so proud of our excellent role models for promoting health and fitness through cycling.
Appointment of New Head Teacher
Children In Need
Friday 18th November
Thank you for everyone's support of our Children In Need day. We have raised an amazing £400 for the charity.
Harvest Festival
Thursday 6th October 2.30pm
Our Harvest Festival will be held in our school hall on Thursday 6th October 2.30pm. Please could you donate some tins/packets of food, fresh fruit or vegetables for our Harvest Table. All donations of produce will be raffled on Friday afternoon. We are selling tickets in school for 20p and the money raised will go to CAP (Community Awareness Project), a local charity for the homeless and needy. Thank you for your ongoing support.
We were very excited to receive this envelope with the stamp of the Queen on the front.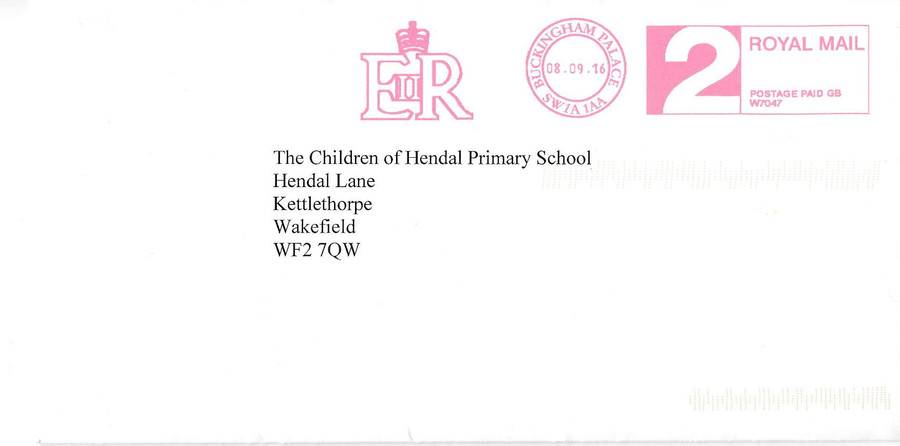 This is the letter and card we received from the Queen.